Pathway to Northern Profitability
with Seifert Belmont Reds
Queensland Country Life, June
2021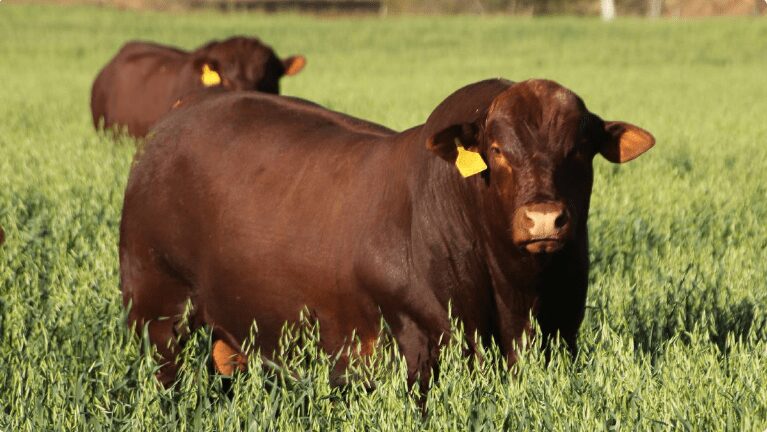 IAN Stark and Jeanne Seifert could not contain their delight after they achieved a breed record top price of $46,000, and an average of $18,494, at their fourth Seifert Belmont Reds on-property bull sale, at Wonga, near Jandowae on Monday.
In all, a total clearance was achieved with this year's sale average up by $5600, and the top price up by $14,000, compared to 2021 sale results.
The draft of 89 "powerful, polled bulls" drew interest from 223 registered bidders on both AuctionsPlus, and in the sale ring. Repeat buyer Sam Slack, AgnesVale,Childers, showed confidence early, pushing lot 47, Seifert Belmont Reds 210367, to a top of $46,000.
The 21-month-old homozygous poll bull sat in the top 1pc for the Belmont Red self-replacing $index, with a scrotal size of 44cm, and live carcase scan data of 6.3pc intramuscular fat and 125 square centimetre eye muscle area.
The second top priced bull, lot 40, Seifert Belmont Reds 210445, sold for $38,000, and was bought by repeat volume buyers WNM Macdonald Pty Ltd who finished with 36 bulls, all bound for WA.
Long-term clients, Michael and Helen McKellar of Morven, were thrilled to secure two bulls. They paid $28,000 forlot 29 and $29,000 for lot 51.
The McKellars said since buying their first bulls in 2012, the improvement in their herd had been exponential, and they had complete confidence buying sight unseen, online, due to their trust in the integrity in the vendors. They were introduced to Belmont Reds while attending a genomics conference at Rockhampton during Beef Australia.
Since then, the McKellars started buying Belmont Red bulls and began joining them with their 600 head composite breeding herd, and have nearly completed their transition from a composite breed herd, to almost pure Belmont Reds.
Stud principal Jeanne Seifert said breeders in the northern beef industry had recognised the value of Seifert Belmont Reds in lifting productivity.
Ms Seifert said it was becoming increasingly obvious at each sale that there was a definite shift in the industry towards data-based decisions, with 27 bulls making over $25,000 having been selected mainly on fertility and growth estimated breeding values.
Ian Stark was pleased to see new faces in the crowd, but especially repeat buyers expressing their confidence in the genetics. As an example, one of their valued long-standing clients had increased their herd pregnancy rate from 45pc eight years ago, to 85pc today, saying this represented an increase of 400 calves annually from 1000 breeders.
Mr Stark said it cemented their confidence to not only offer 100 bulls at their annual sale, but to increase the number of private treaty bulls offered annually to 500 bulls.
Select this link to view the original article on the QCL website