Pregnancy, Calving & Weaning Rates
Figure 1. Calving % (Belmont Research Stat, Also Narayen & Brigalow)
Belmont red
Brahman X
British
Figure 2. Pregnancy rates (Mt Eugene)
(Belmont Red All)
Belmont 2yo lact.
Santa all
Santa 2yo lact.
(Drought M all)
Drought M 2yo lact.
(Brahman all)
Figure 3. Calving% (Narayen)
Belmont Red
Hereford
---
Belmont red
Hereford
Simmental
Fig. 1 shows that Belmont Reds were significantly more fertile than Brahman-cross and British Breed crosses. The differences in fertility between Belmonts and Brahman-cross were due to lower fertility in both the Brahman-cross females and bulls.
Fig.2 illustrates the Pregnancy rates of daughters from Belmont Red, Santa Gertrudis, Droughtmaster and Brahman bulls, out of Brahman Cross dams. Belmont Reds were significantly more fertile than all the other breeds. Also the higher the Brahman content of the cows, the lower the fertility. It was also found that although pre-joining live weights were similar for all breeds, the largest advantage in fertility in favour of the Belmont occurred in the 2 yo lactating heifers, and that they conceived earlier than the other breeds, especially the Brahman.
Fig. 3 shows that even in the benign environment ("Narayen"), calving rates of Belmont Reds, were higher than Herefords. In a similar environment at "Brigalow", weaning rates of Belmonts were much higher than those of Herefords and Simmentals. The lower weaning rates of the Herefords and Simmentals mainly reflected high pre-weaning calf losses in these breeds.
"South Africa" The Inter Calving Interval of Belmont Res were significantly shorter (14 days) than those of Bonsmara's. The two breeds were very similar for all other measured production traits.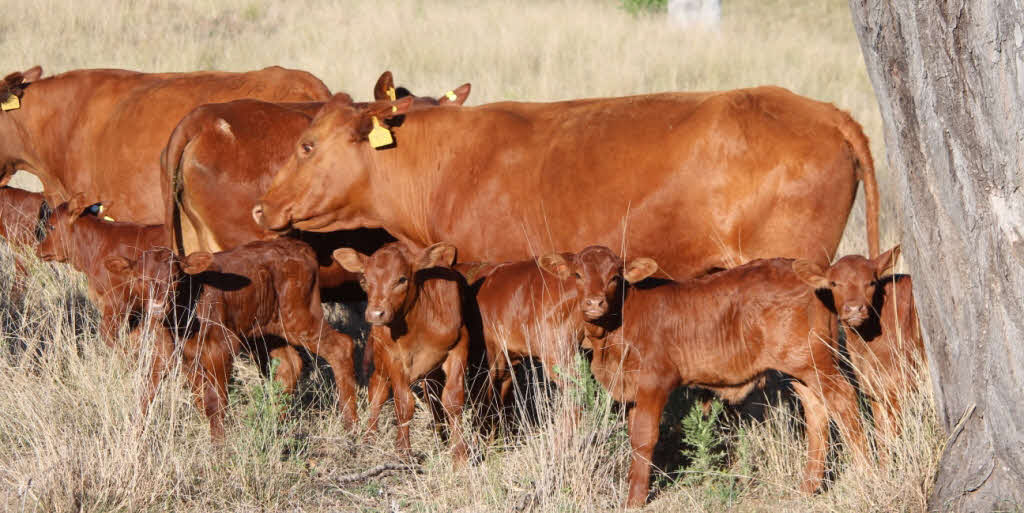 "Belmont Research station" Belmont Red bulls had a higher percentage live sperm (79%) and less minor abnormalities (9%), than Brahman Composites (71%) and (13%). In addition more Brahman Composite bulls than Belmont Red bulls produced sperm with less than 60% live sperm. A level of 60% live sperm has been suggested as the minimum acceptable level for normal bull semen.
"Belmont Research Station" : At weaning (6mths of age and weighing 156kg) testicles of castrated culled bull calves of Belmont Reds were 41% heavier, 16% larger in diameter and 13% longer than those of the Brahman Composite. The ratio of length to width indicated that the Brahman-cross had very elongated testicles compared to Belmont Reds.
Conclusion and reproduction
In stressful environments Belmont Reds have had higher reproductive rates than the Temperate breeds and represent a viable economic solution for improving fertility in these areas. Fertility traits are lowly heritable and difficult to select for. Therefore in any Breeding Program genetic progress selection to improve reproduction will be slow. In harsh environments using an adaptable breed which excels in both female and male fertility, such as the Belmont Red, therefore has a large economic benefit.