Why invest in Seifert Belmonts
Maximum benefits for minimum costs
Buying Seifert Belmont Reds is a low cost sound investment in genetics that will permanently boost the productivity and profitability of your herd.
The original tropically adapted Bos Taurus, our Belmont Reds are unpampered proven performers proudly 'Australian Made' for the proactive profit driven Australian cattle producer. They remain the best "Tropical Composite".
Use Bull Calves as Yearlings : fertile and 'working' at 11-14 months.

Join Bulls at 2% : 1:50

Extended Sexual Career : bulls have short sheaths and won't 'break down'

Yearling Mate Heifers : fertile at 1 year old or 260kg

Low Incidence of Lactation Anoestrus : females remain fertile when wet

Longevity in Females : naturally mate and calve every year up to 16 yrs old (or over in 'better' country)

MSA Compliant : flat backed steers

Buffalo Fly Resistant : never treat for buffalo fly

98% Cattle Tick Resistant : never treat for cattle tick

Leap in Hybrid Vigour : over Indicus, Euros & British breeds

Drought Tolerant: moderate frame and feed efficient
Heat Resistant : sleek coat, continue grazing and serving even in extreme heat

Rare Dystocia : no need to check calving cows as they naturally calve unassisted

Feedlot Preferred : calm, readily go onto feed and finish early

Finish on Grass : grade to market specs from the paddock

Extraordinarily Docile : kids, grandparents and strangers can safely work in the yards

No guess work : Breedplan, pedigreed, registered, BBSE, vaccinated, guaranteed

No Fiction : facts proven by over 50 years of Scientific Research

Affordable : accessible African Bos Taurus genetics

Australian Made : for real Australian conditions

Easy Organic Compliance: no need to use chemicals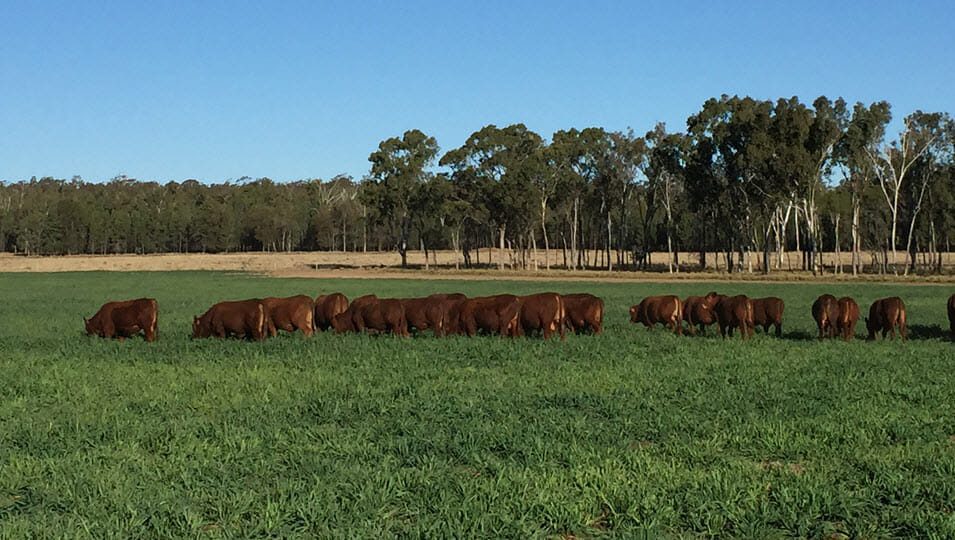 ---
---
As a sire breed, the tropically adapted Belmont Red has a unique advantage over British, European and Bos Indicus breeds for use in crossbreeding.
Belmont Reds possess all of the production and beef quality traits of the British and European Bos Taurus breeds, with the added benefits of superior adaptation traits including tick and parasite resistance, heat tolerance and drought resistance, combined with calving ease and small birth weight calves.
Economics

Economically Belmont's produce an extra gross profit of $24 on grass and $76 on grain per adult compared to Brahmans (CRC Research).

Proven performance

Belmont Reds have over 50 years of proven performance testing and are proudly AUSTRALIAN made for AUSTRALIAN conditions.
Belmont Reds have adaptation traits equal to the Bos Indicus breeds,
with the added advantage of very high fertility including early sexual maturity in both males and females with females able to reconceive at low weights and whilst lactating, in conjunction with the Belmont Reds superior carcass qualities and renowned docile temperament.